By OD
(Wait what? Now there's a movie set on a ship with killer aliens?)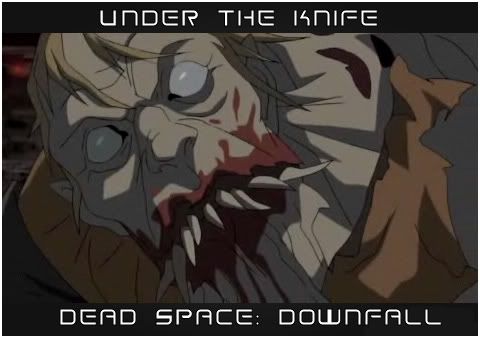 So after I played and reviewed Dead Space, I just realized that they had a full feature animated film of the game's prologue!  And I thought to myself  "I wonder if it's any good." And the answer is no. There has been animated films that are prologue's to the games before. For instance Dark Fury; which stared the famous character "Riddick". And that movie wasn't really bad. So I had high expectations of this movie at least being enjoyable to watch. And maybe fill up some questions I asked in Dead Space. Like how most of the characters got to where they were. But enough about my thoughts, let's just get this over with.
Dead Space Downfall *or DSD what I'm calling it from now on* is an animated film and was created by Film Roman in 2008 under the license of the EA game. The story  is based around the USG Ishimura, the planet cracker ship that took place in the game. It's said that the film uncovers what happened exactly before Issac Clarke came aboard, but like all space ships with killer aliens, you don't need a story for that.
Story
The movie starts off when the "Marker" is found on the hallow planet, and all hell breaks loose after the crew of the USG remove the Marker from the planet. As hell breaks loose, you'll follow the characters Alissa Vincent and her team, who are security guards aboard the Ishimura, and Dr. Kyne a scientist who is trying to contain the infection of the Necromoprhs; which are unleashed after the Marker is removed.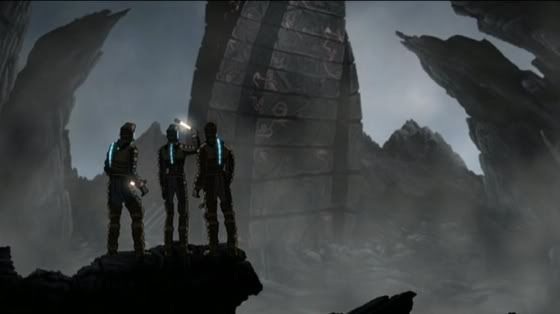 The story doesn't progress any further then this. There are some minor check points while watching the film, such as saving survivors, but nothing really changes the story its linear and never brings out a cluster fuck scenario. Which is what many survival horror films do. But basically the story is "Hey ships fucked up by some aliens! Go save those survivors! Let's get the ship started and go to earth for help! Fuck that! We can't bring this back, Imma sabotage the ship!" and that's the end of that.
Music/Sound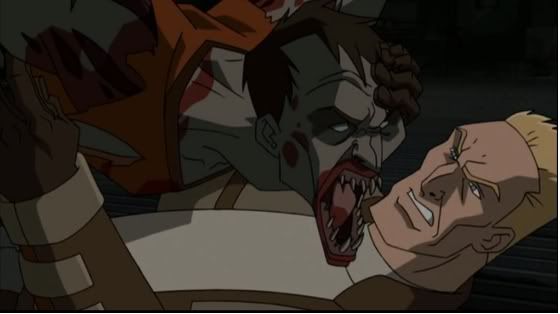 Remember those awesome sounds and music I was talking about in the game? Well the music is back, and it is executed very well in the film, but the sound is very generic or badly dubbed. For instance, the sounds of the pistols going off while the security guards fight off the Necromoprh's sound like a mix of somebody dropping basketballs and banging on a door multiple times. I'm not kidding. It certainly doesn't sound like anything that would kill you.
And I dunno if they put a recorder next to the game when they tried to get the sounds of the Necromorph's, but they sound very muffled. It's as if you put a pillow over their mouths while they were trying to scratch your face off. And just to let you know, I did watch this film with surround sound, and it failed to impress me.
Voice Acting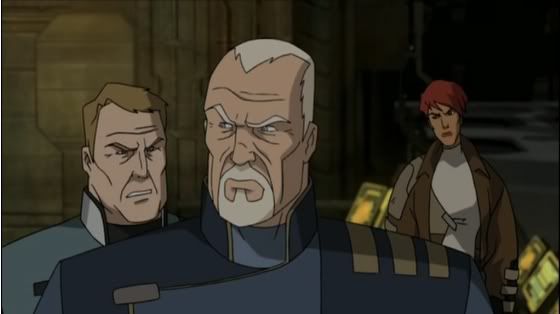 I dunno who hired the VA's. But they deserve a great big bitch slap. Dr. Kyne, *seen on the left* was the only real good VA in this film! Everyone else is either lacking emotion or they have the most predictable lines ever! And in combat it's worse! Whenever someone get's knocked down they make a simple "oof." like they were ordered to just say it. The only time you'll ever hear some good VA'ing  in the other characters is when they cuss their ass off. The captain, *in the middle* sounds like Robotnik from the Sonic TV series. But he sounds like a little bitch and his voice gets irritating. But thank God they kill him off. And Alissa on the right, doesn't captivate that "hero" vibe. She's basically a cardboard cut out of Ripley from Aliens and they just gave her the most predictable 90′s action film lines.
Art/Directing
Don't let these pictures fool you, the art in DSD is not what your going to expect. If you combined the art of a mid 90′s cartoon show that took place on Saturday's, and combined it with a bucket of red paint you would get DSD. Cause the blood is everywhere in this movie. But poorly detailed. So half the time as you watch the characters cut up monsters, it will look more like a slew of pastel red going everywhere. And this really kills the mood of the movie, and you never get that "DAMN!" or "OH SHIT SON!" moment whenever somebody get's horribly executed. Of course with one expectation of one of the deaths. But that's about it. And not to mention the Necromoprh's compared to their video game counterpart, look very dull. They aren't fleshy looking, and they lack the depth in many of their features. And everything just seems really square or too oblique and it looks like the artist just half ass'ed it when they were creating this.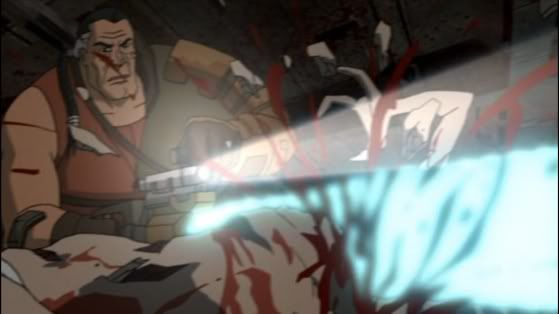 Directing really isn't any better. It seems like they tried to make an action style horror film, but they failed. You will see an ass load, and I mean an ass load of motion blur going on this film. So much, that it's hard to keep track of who just got killed. And sense there is so little detail, the blur makes it look like there's colors running on the screen. I mean the scene above would of looked a hell of a lot better if the artist got off their ass and added more detail!
Speaking of which, usually when a film is made based on a video game, they have game content in it! Not once in this film did I say "Oh hey that's cool to see that *insert weapon or place* in the game!" The only thing's you'll see in the film is the holographic HUD, but it looks like shit. And the life bar spine. Which also looks like shit, and looks more like a fish spine instead. And where the fuck in the game was that chainsaw laser at! That would of been very helpful considering how easily the characters in this movie kill the Necromorphs!
Overall
This is just a bad film. It fails to captivate what Dead Space was, and it doesn't even impress the die hard fans of Dead Space. The lack of detail, the horrible directing and Voice Actors, all kill this film. If there was one thing I did like about this film, is that it was short. Yeah the films only an hour or so long, and thank God. I can't imagine putting more cash into this piece of shit. From my opinion this film would of been better if it was a CGI film and they gave the license to a Canadian film company instead.
Score
4 out of 10
Don't watch this film. Or at least don't spend any money on it. And to you Film Roman.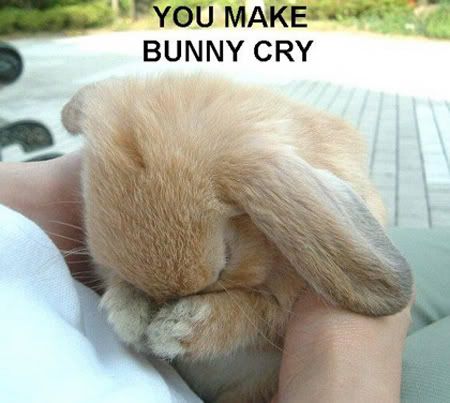 3 Comments