By: OD (Hates this pic below because its too freaky…..)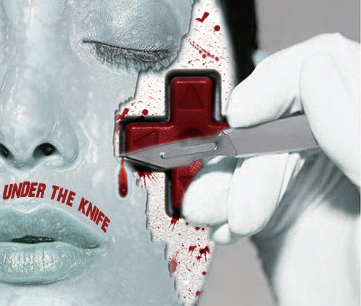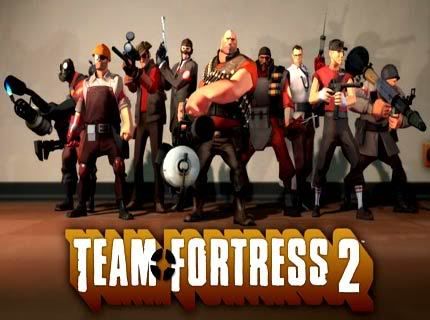 *Sigh* well I finally got off my lazy ass to stop playing TF2 and start writing about it! In case you didn't know, VALVe recently released a game called Team Fortress 2 that is a excellent sequel to an old HL 1 mod that was based around grenade whoreing and rocket jumping known as of course Team Fortress. Now the word "Team" in Team Fortress 2 actually means something! Instead of going around AWOL with the ridiculously overpowered Heavy or bunny hopping whore scout! Team is the main asset in this game and VALVe has truly stuck to that and the fun in the game never gets dull! And just recently VALVe has released a brand new map! Not only that, but the Medic's got new weapons and is packing heat! I'm about to give you a run down of the new updates and what to expect when your playing the game!
GOLD RUSH
Remember the fine days when you could go down to the Klondike river and get a pan and fish yourself some gold nuggets? Well fuck that, cause this isn't anything like it! Instead Gold Rush is a map that has one objective. Get the Cart to the last control point of the enemies base. Or if your on team RED then your objective is to stop BLU team from getting the cart to your base! What happens if you fail to keep that cart from getting to your base? Well your just gonna have to play to find out! The cart moves depending on how many people are on the cart.
More people means the cart will travel faster. If no one is on the cart for a certain amount of time, the cart starts reeling back. But don't worry, the cart gives Health and Ammo out when you stand near it! Remember, the cart is the main objective! So don't forget to always help your teammate push that thing up!
New Medic Weapons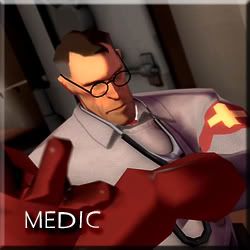 The medic class. Usually the medic class is known for being the "Pussy class" of TF2. Well thats about to change! The medic is now more powerful then ever! Some of the many new weapons are surely to enhance yours and other players performance in-game.
The Blutsaughter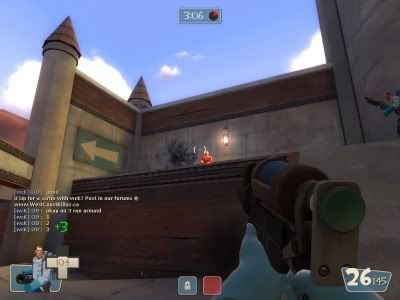 Replacing the crappy Syringe gun, or the AIDS cannon when you got a critical hit spree. The blutsaughter gets rid of the critical hit ability and instead turns it into a vampire gun. Whenever a syringe hits an enemy it gives you back +3 health points! Perfect for rushing pyro's storming towards you!
The Kritzkrieg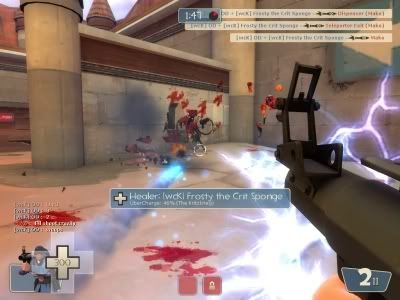 The Kritzkrieg is the 2nd medi-gun that you unlock, and replaces the 10 second invulnerability Uber-charge and instead gives you 10 second critical's! While other players might think this medi-gun is a piece of shit, I have to disagree. You have to know when to use this weapon and how to use it! Using the Kritzkrieg at the start of the game is a bad idea! An uber'ed up Heavy could come barging right into your criticals and take no damage whats so ever! So, you have to know when to use this weapon at the right time!
The Uber Saw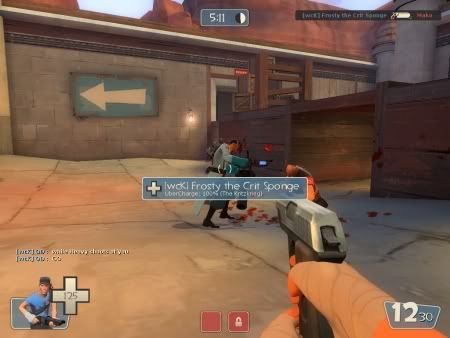 Ah. The biggest and most bad ass weapon to come to TF2 so far! The uber saw is a bloody and deadly weapon that gets rid of the most toughest enemies! It has a slower firing rate then the regular bone saw, but only by a little bit. The uber saw has something that the regular bone saw can't compare to! If you get 4 hits with the uber saw, it instantly fills up your uber-charge and your ready to roll out!
But wait, how do you get these weapons? Well its simple……..okay its really not. VALVe has made an achievement system so that you can unload the new weapons out whenever you get a certain amount of achievements! But some of those achievements are just ridiculous! And if you do happen to unlock all the weapons, and you don't like them; don't worry you can always take em out and put the original weapons on in the load out screen!
FInal Thoughts
Well TF2 has a lot to offer, and with the new weapons coming out for each class, and new maps and game modes at the same time; TF2 has a shining future. But with the new medic weapons you'll be seeing a lot of moments like this.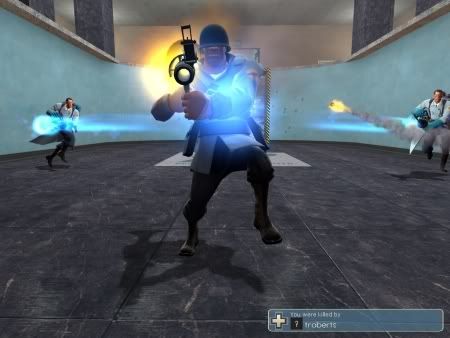 Final Grade
9 out of 10
Lets face it, even though its just medic weapons, they really show potential and we can't wait for whats in store for the other class's!
7 Comments